Photographer Steve Miller will tell his story of facing tough challenges and finding God with him through them at the next meeting of Room'N'Ate – the Stantonbury Ecumenical Partnership's men's group.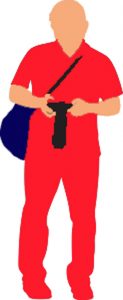 Steve will be giving a presentation entitled Life Through The Lens at the meeting which takes place at The Cock Hotel Oak Room Suite at 72-74 High Street, Stony Stratford, MK11 1AH on Monday May 8 at 7.30pm. The meeting also includes supper.
Steve is a keen photographer and will show some images and talk about the stories behind them.
For menu details email Roy Laurent at roy@laurent.eclipse.co.uk  or Andy Jowitt at jowitts@btinternet.com Roy can also be contacted on 01908 322064 and Andy on 01908 320850.
* On Thursday July 13 at 7pm Fred and Fran Gill bring the Pilgrim Bike – a Harley Softail Custom machine – to a barbecue at St James' Church, New Bradwell.
Download the Life Through The Lens poster for publicity in your church.