Fun alternative to Halloween at New Bradwell
Fun and games are promised when St James' Church,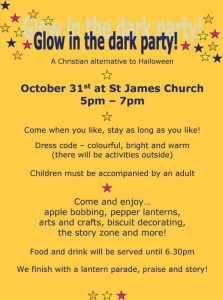 New Bradwell, stages its annual alternative to Halloween on Monday October 31.
The Glow In The Dark party will be held in the church from 5 to 7pm with a dress code of 'colourful, bright and warm.' There will be activities outside the building and children must be accompanied by an adult.
Apple bobbing, pepper lanterns, arts and crafts, biscuit decorating and the story zone are among the attractions.
Food and drink will be served until 6.30pm – the event finishing with a lantern parade, praise and a story.
Download the poster for Glow In The Dark.
Exclusive chance to tour city's own museum
Do you fancy A Night At The Museum? And no we are it talking about the 2006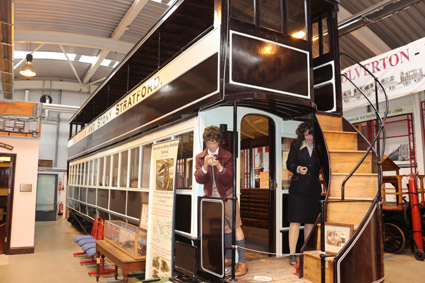 fantasy comedy film starring Ben Stiller, Robin Williams and Mickey Rooney, among others.
This is instead the chance to enjoy an exclusive tour of Milton Keynes Museum at Stacey Bushes and is the latest venture organised by Room'N'Ate, the men's group for Stantonbury Ecumenical Partnership.
The museum is recognised as one of the best volunteer-run museums in the country. The visit is on Wednesday November 9 starting at 6.45pm for dinner, followed by the tour and finishing before 9.30pm.
Entrance and tour costs £7.50. Meals on offer are quiche £8; fresh salmon £10 or sausage plait with slices of turkey and ham £9. Alternatively sandwiches, cakes, tea and coffee are available from about £3 – special dietary needs can be catered for.
Final numbers are need by Sunday November 6. Email your menu choices to Roy Laurent – roy@laurent.eclipse.co.uk or Andy Jowitt – jowitts@btinternet.com. Don't forget to include your name!
Here's the poster with full details.
Get it straight with the CAP money course
Are your finances in a mess or do you have trouble working out what your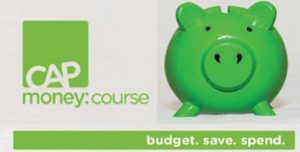 priorities are when it comes to money?
Well a new series of the successful CAP money course is due to begin on Monday November 14 – continuing on the following two Mondays.
Sponsored by Bradwell Church the sessions will be held at Bradwell Church on the corner of Loughton Road and Vicarage, Bradwell Village MK13 9AA from 7.30-9.30pm
To book call 01908 320850 – email Andy Jowitt on jowitts@btinternet.com or alternatively phone 07772 846688.
If you're still not sure whether this course is for you visit www.capmoneycourse.org or check out the Facebook page at facebook.com/capuk or Twitter at twitter.com/CAPmoneyuk
The poster has all the information you need