Bradwell set for Songs of Praise
Songs of Praise is coming to Bradwell Sunday September 18 –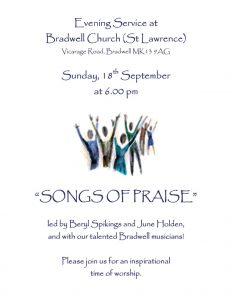 but there won't be a television camera in sight.
And Pam Rhodes won't be making an appearance – we think!
Instead Bradwell Church members Beryl Spikings and June Holden will be leading evening service with the promise of an inspirational time of worship.
The service begins at 6pm and will also feature Bradwell's talented musicians.
The church – St Lawrence – can be found at Vicarage Road, Bradwell postcode for your SatNav is MK13 9AG
Download the poster for the service.
Chance to learn about Sikhism
There's a chance to find out about the Sikh religion at the Sikh Awareness Open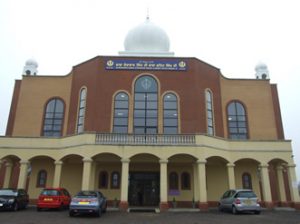 Day on Sunday September 18 at Leadenhall Gurdwara in Phoenix Drive.
Various events are on offer starting at 11am with breakfast followed by an introduction to Sikhism with a question and answer session. From 12.30-2pm there is a free lunch.
Note worship place etiquette:  no alcohol or tobacco on the premises; modest dress including no short dresses or revealing tops; headscarf essential (bring your own both men and women or can be provided when you arrive.)  More info: Harkirat Singh, Sikh Education Officer, 07968 143546: www.sikheducationservice.co.uk
Postcode for the Leadenhall Gurdwara is MK6 5LU.