People enquiring about weddings will often ask about costs.
The information below is a simple guide for weddings in the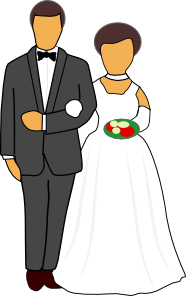 Stantonbury Ecumenical Partnership in 2015.
Legal Fees
These are normally £445.  There may be some small additional costs due to the fees for reading of Banns in other parishes for some couples (Church of England weddings) or for Marriage Certificates (Free Church weddings).
Organ and Organist
£90
Verger
£40
Bells (e.g. peal of 6)
£140 (available at St Lawrence, Bradwell; Cross and Stable, Downs Barn and St Andrew's, Great Linford). £30 at St Mary Magdelene, Willen.
There will be local arrangements in each church for flowers and for the cost of heating and there will be an additional charge for permission to video record the service (including copyright permission).
QUALIFYING CRITERIA
It is important that you ascertain as soon as possible whether you meet the criteria to qualify for a wedding in one of the Partnership churches.
These are essentially:
Church of England weddings
Residence in the parish
and/or
Membership of the electoral roll of any church in the parish
and/or
Other qualifying connection (you can find out more on the Church of England website www.churchofengland.org)
Free Church weddings
Habitual worship at the church
and/or
Residence in the area.
If you have been married before or are not a UK citizen, you should contact a minister as soon as possible to  help you explore whether a church wedding is possible.
Sometimes couples choose to have a Service of Blessing in church after a civil wedding, or a Service of Thanksgiving & Renewal of Vows (maybe to celebrate an anniversary).  You will be able to find out more by contacting one of the ministers.
If you wish to enquire about having your wedding in one of our churches please contact us indicating which church you are wishing to hold it in.