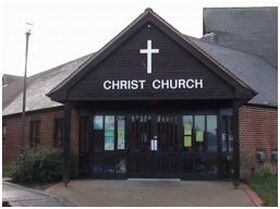 Christ Church, Stantonbury
Stantonbury Campus
The Christ Church fellowship started on Easter Day, 1975 with a group of 10 adults and children meeting in the Stantonbury Community House.
By the end of the year, the fellowship had moved to its present premises, the new Christ Church Centre on Stantonbury Campus.
At Easter 1990, we opened an extension to the building at Christ Church, which gave us for the first time, a purpose built sanctuary alongside the existing community hall.
Christ Church has always been a mixed congregation; it is sponsored by the Anglican, Baptist, Methodist and United Reformed denominations.
Contact Details
Christchurch Stantonbury
Christ Church
Stantonbury Campus
Stantonbury
Milton Keynes
Tel:(01908) 315627 or use the contact form below.
Minister : Rev David Lewis
Administrator: Margaret Prisk
Treasurer : Adrian Prisk
You can find Christ Church, Stantonbury here: