Christmas is being celebrated in the Stantonbury Ecumenical Partnership with a whole host of services over the coming week or so. Here are some you will be most welcome to attend.
Bradwell Church
Sunday December 17.
4.00pm Family Carol Service (led by Rob Coles) 'We're going on a journey', Festive fun, and carols old and new.
6.00pm Traditional Carol Service (led by John Robertson). The Christmas story told in carols and readings.
Sunday December 24
4.00pm Family Crib Service (led by Paul Rushton). A short service for the young and young-at-heart. Take a break from the preparations and rush and focus on the real story.
11.30pm Midnight Communion (led by Rob Coles, presided by Steve Barnes).
Christmas Day
10am Holy Communion with Rod Ruston
Christ Church, Stantonbury
Sunday December 17
10.30am: Traditional carol service. Led by David Lewis:
As we celebrate the birth of Jesus in readings and songs.
Sunday December 24
10.30am Carols and Nativity around the tree.
11.30 pm Candlelit Communion
Christmas Day
10.30 am Family Service.
St Andrew's, Great Linford
Sunday December 17
6pm Carol Service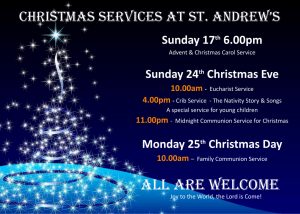 Advent & Christmas Carols with Nine Lessons. The wonderful story of Christmas retold in song and readings
Sunday December 24
4pm Crib Service
A special service for young children, retelling the inspiring nativity story in songs and play in a way that young children, even little toddlers, are able to connect with.
11pm Midnight Communion Service. Come along to usher in Christmas – Joy to the world, the Lord is come!
Christmas Day
10am Family Communion for Christmas. All are welcome!
St James Church, New Bradwell
Sunday December 17
6pm Carol service
Sunday December 24
10am Methodist Communion Service
5pm Crib Service
11.30pm Midnight Communion
Christmas Day
10am Christmas Family Communion
Willen Church
Sunday December 17
5pm Carols by Candlelight with Quorum followed by mulled wine and mince pies in the Priory. It would be good if people
could bring contributions of mince pies and mulled wine for consumption after the service. All contributions should be left at the Priory before the service
Sunday December 24
9.30am Communion Service for last Sunday in Advent
3pm Lessons & Carols at Lovat Fields Retirement Village, Hawthorn Hall with Colin Taylor
3.30pm Christingle Service (especially suitable for children) with Paul Smith
11.30pm Midnight Communion Service with Paul Smith