Dear friends
What a fascinating place! Two weeks in, I am thoroughly enjoying the experience of being part of the life in Milton Keynes.
There is clearly a lot going on, and I have only begun to scratch the surface: the variety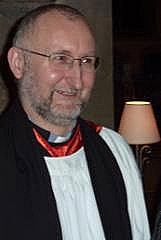 for someone who comes from rural Oxfordshire is extraordinary.
Perhaps that ought to be expected in any large city (and Milton Keynes is very obviously a city despite official lack of recognition!), but what is most striking to me is the breadth and energy of the Christian community within the city.
I guess we're all used to being asked the question, "Why is the Church so dull? So irrelevant?"
Society at large and the media in particular seem to take dullness and irrelevance as a given, and after an especially boring meeting about the upkeep of church guttering we might all be inclined to agree.
Yet I am discovering a church here which is thoroughly, deeply engaged with life in all sorts of interesting ways.
There is ministry in schools right across the city, an urban farm, a night shelter that took in 90 guests over the winter months, excellent training and support for young people that society might leave behind, churches which welcome adults with learning disabilities into their worship, a Christian presence in the prison and the hospital, congregations which practice hospitality, projects to engage with young adults and new housing….. and that is only the tip of a very large iceberg. All of this is witness to a church which is vibrant, alive and relevant to an extraordinary degree.
The question, it seems to me, ought not to be "Why is the Church so dull?" but "Why is the Church so vibrant?" Where, in other words, does its exceptional life come from?
We are, perhaps, too easily seduced by the dullness agenda that we miss what is actually going on in our midst or too shy and self-effacing to mention it.
If, however, we have caught even a little of the excitement of what church can be and do and if we recognise in the life of the Church the God who wants to be known and made known through the Church, then we will want to share our discovery with those around us.
In short, the answer to the question "Why is the Church so vibrant?" is a simple one: in the words of Jesus, "I have come in order that you might have life – life in all its fullness". That life is what we are called both to share and make known.
Every blessing
John Robertson,
Director of Ecumenical Mission