Most people when facing up to losing a murdered teenaged son would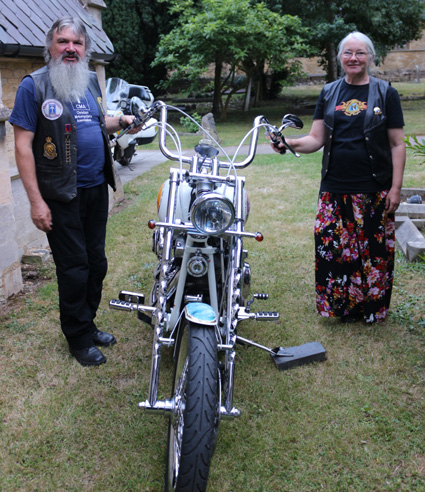 probably be filled with hatred for the attackers. But that was not the case for Fred and Fran Gill who forgave the three youths who were convicted of killing Robert who was 17 years old.
At Room'N'Ate's latest meeting – a barbecue held at St James' Church, New Bradwell, Fred and Fran, from Bedford, recalled how their adopted son was missing for a nearly a week before his body was found in the River Ouse in the town at Christmas 2007. On the night of the attack Robert had been to a nightclub and was drunk.
Both committed Christians – and bikers – Fred said the idea of customising a motorcycle in Robert's memory came to him some time afterwards. A Harley Davidson Softail special was purchased and painstakingly decorated with artwork and relevant words.
The motorcycle is now taken to events far and wide to illustrate how it is possible to forgive in such difficult circumstances. It was on show at Room'N'Ate – Stantonbury Men's Group.
One of the inscriptions reads: "Do not be afraid, for I will be with you, when you go through the waters I will be there". This sentence from Isaiah 43 v 1 and 2 came to Fran when Robert was missing. Little did she realise the significance of it and its connection to where Robert would be found.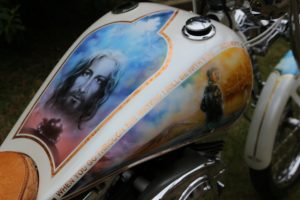 They discovered that this is the verse from the Bible that Christian, the pilgrim in John Bunyan's Pilgrim's Progress remembers. Robert was thrown into the river a short way from where Bunyan was baptised.
Fran said: "We knew we had to forgive and not allow ourselves to be overcome by hatred for his attackers. God gave us the strength to do that."
And as a result of Robert's murder Fran and Fred were instrumental in the setting up of Bedford Street Angels who are on call outside the town's nightclubs to try to ensure that no other youngsters come to any harm after an evening out.