A new group for children aged eight to 12 years old is to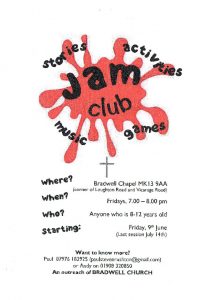 launch at Bradwell Chapel on Friday June 9.
Although based in Bradwell the Jam Club is open to youngsters from all over the Stantonbury Ecumenical Partnership and will feature stories, music, games and other activities, led by Paul Rushton.
The chapel can be found on the corner of Loughton Road and Vicarage Road, just put the postcode MK13 9AA into your car SatNav.
The group will meet weekly for an hour between 7 and 8pm and will take a break for summer from July 14.
You can download the Jam Club poster here.