St James' Church, New Bradwell, is staging a Christmas Tree Festival to kick off Advent at the beginning of December.
The festival will be held over the weekend of Saturday December 2 and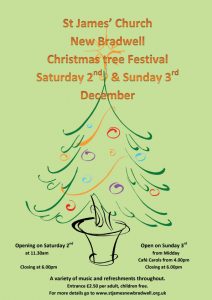 Sunday December 3 and will feature a variety of music and refreshments throughout the event.
On the Saturday it will be open from 11.30am to 6pm and on the Sunday the opening times are midday to 6pm with café carols from 4pm.
Entrance is £2.50 per adults with free admission for children.
You can download the Christmas Tree Festival poster here.